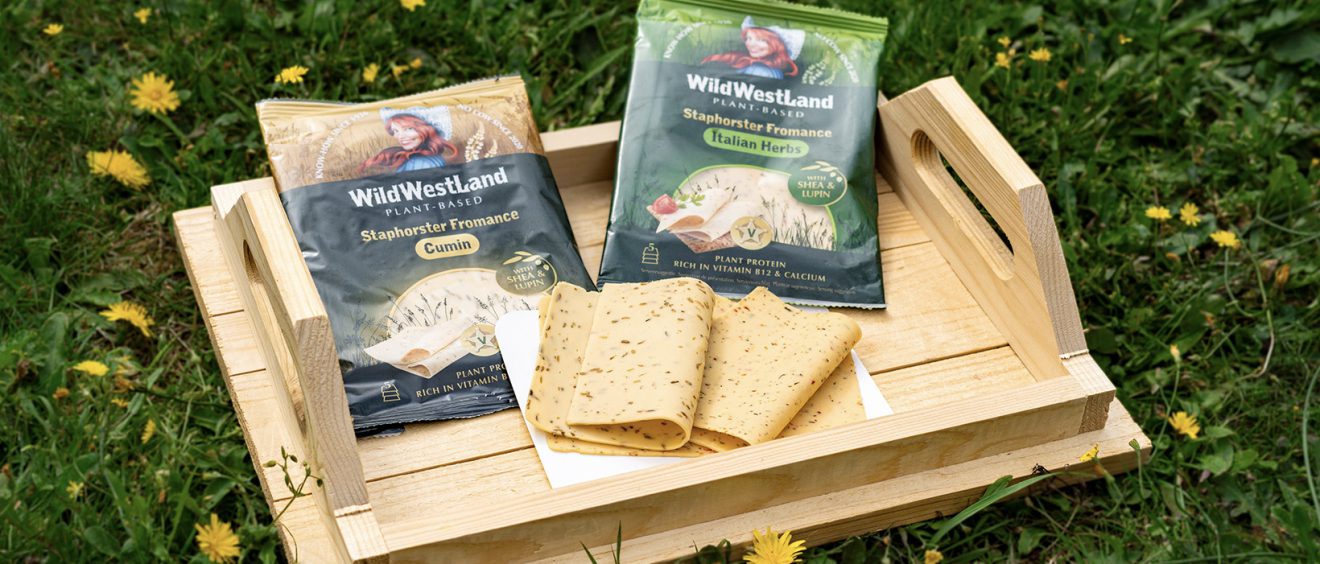 New: Staphorster Fromance
Newsflash: we are on a roll!
We proudly present: Staphorster Fromance. After 2 years of trying, tasting, and more trying, you finally get to enjoy the smoothest slice of the land. Made in Staphorst with shea & lupine, for the love of cheese. Now on a roll at Albert Heijn!
Sustainable choice for serious cheeseheads
100% plant-based
Source of protein with shea & lupine grown near
On a roll with nature, cows & local farmers
Traditionally tasty Staphorster recipe
Made in Staphorst for the love of cheese
Shea and lupine give saturated fats a kick in the coconuts and make Staphorster Fromance big on protein, with a tiny ecological impact. It's rich in vitamin B12 and calcium and with a gentle flavor and smooth fresh-off-the-knife structure that we never tasted before in our plant-based quest.
And try, we did. Many a dry, crumbly iteration passed our test kitchen & palates. Until Rouveen Kaasspecialiteiten, who have been making cheese for a century in coöperation with 250 dairy farmers, invited us to try lupine: a protein-rich pulse that thrives on Staphorster soil.
Together, we perfected the recipe without the usual coconut & soy, but with shea butter and lupine. And couldn't stop snacking on the result.
Farmer's Bromance, Staphorster Fromance
One of the things we love most about Staphorster: 6 dairy farmers in the Rouveen coöperation now dedicate part of their land to growing lupine. Arnold Bouwman, one of the 6 pioneers: "I see it as a way to keep farming in the future. To me, that's the best thing there is."
Discover more about our Staphorster Fromance.