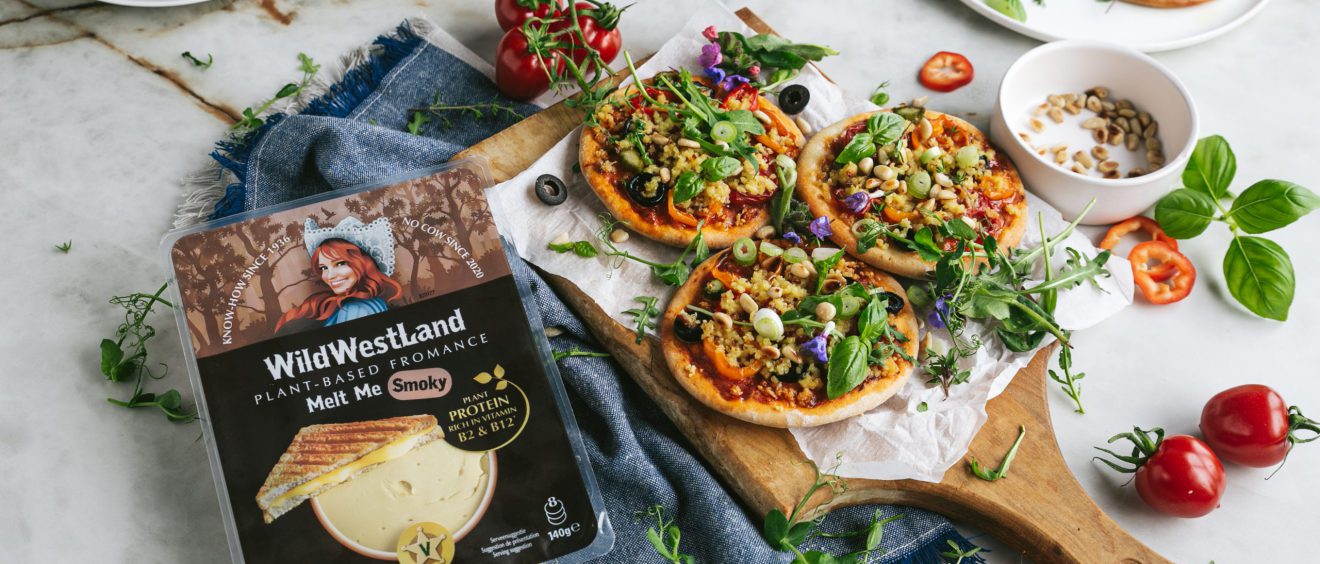 Veggie mini pizza's
These mini vegetable pizzas are perfect for a party. 🍕
Or to eat all by yourself. We won't hold that against you.
Ingredients for 10 pizzas:
1 package of WildWestLand Melt Me Smoky
Vegan frozen pizzas from Albert Heijn
300 gr cherry tomatoes, sliced
175 gr mini bell peppers, sliced
100 gr sliced black olives
3 tbsp pine nuts
85 gr rocket
100 gr green asparagus tips, sliced
Handful of fresh thyme
Handful of fresh basil
Bunch of spring onion
Preparation:
👉 Blanch the asparagus tips until al dente.
👉 Cut the cherry tomatoes, mini peppers, black olives and asparagus tips into slices of equal thickness.
👉 Take the pizzas from the freezer (or make your own dough and sauce if you feel like it) and top them with the cherry tomatoes, mini peppers, olives, asparagus and thyme.
👉 Bake them in the oven according to the instructions on the package.
👉 Grind the Melt Me Smoky in a food processor until it has the texture of grated cheese.
👉 Remove the pizzas from the oven after 7 minutes and sprinkle generously with the Melt Me Smoky. Cover the pizzas with aluminum foil and bake in the oven until the Fromance is melted.
👉 Toast the pine nuts in a dry skillet until light brown.
👉 Remove the pizzas from the oven and garnish them with arugula, pine nuts and basil.
Now for the hardest part: letting the pizzas cool enough so you don't burn your mouth. We believe in you! 🤠