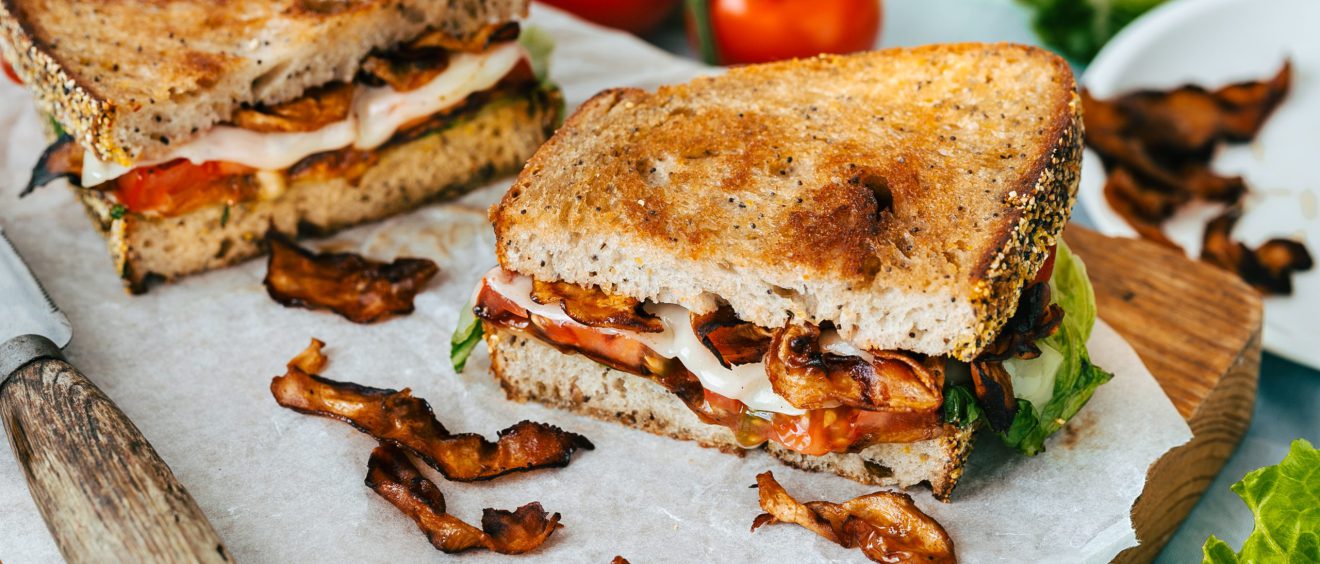 Plant-based BLT
Plant-based BLT
with celeriac bacon
Making the vegan bacon is a bit of a job, but endlessly more elegant than how bacon is normally made. And the reward is great!
For 4 pieces
Preparation time 30 minutes + waiting time at least 30 minutes

Ingredients
8 thick slices of sourdough bread
4 slices WildWestLand Melt Me Smoky
Vegan butter
50 ml sunflower oil
2 tbsp soy sauce
1 tbsp miso paste
2 tsp smoked paprika powder
¼ small celeriac
8 leaves of little gem lettuce, washed and dried
2 tomatoes sliced
Preparation
Stir the oil, soy sauce, miso paste and smoked paprika powder well together in a bowl. This will be the magical marinade for our vegan bacon: use a vegetable peeler to scrape wafer-thin slices of the celeriac and stir them carefully through the marinade. Place the marinade in the refrigerator for at least half an hour. But the longer, the better the flavors absorb.
Brush a frying pan with a drop of oil and fry the slices of marinated celeriac on very low heat until brown and crispy. Take it easy, they can burn quickly. Let them drain on some kitchen paper et voilá, vegan bacon. Try to save some for your sandwich, because it is delicious to nibble on.
Spread 4 slices of bread generously with vegan butter, divide the lettuce leaves over 'm and garnish with tomato slices. Place a slice of Melt Me Smoky on each sandwich and spread your vegan bacon on top. Top with the remaining 4 slices of bread.
Heat ample oil in a frying pan. Bake the grilled cheese sandwiches until they are golden brown and the Melt Me Smoky has melted. Cut the sandwiches in half, bite and sing hallelujah.