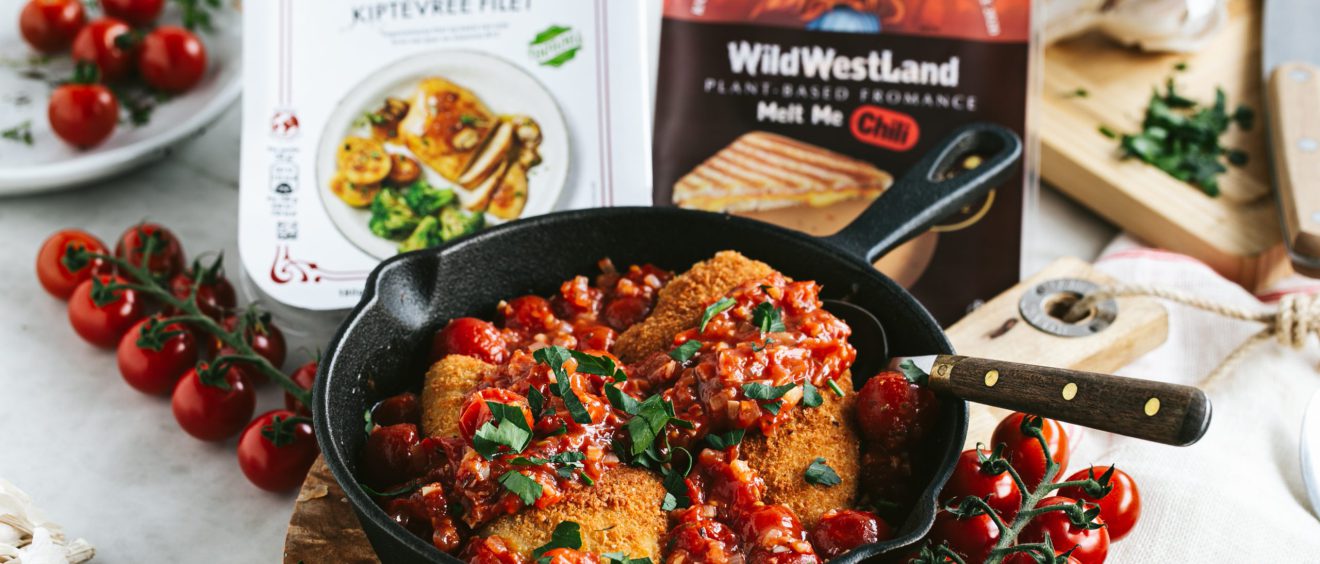 Impeckable Chicken Parm
Did you think plantbased chicken parm was impossible? It's not! 🤠
This impeckable recipe will take you right back to your favourite meal from your pre-plantbased days. Promise!
Ingredients:
2 slices WildWestLand Melt Me Chili
1 package Kiptevree Filet by De Vegetarische Slager
15g plantbased egg, mixed with 100 ml water
100g flour
150g breadcrumbs
For the tomato sauce:
1 shallot, finely chopped
3 garlic cloves, finely chopped
1 can cherry tomatoes
1 tbsp Italian herbs
Salt and pepper to taste
Rapeseed oil
Finely chopped parsley
Chili flakes to taste
Preparation:
👉 Heat up a tablespoon of rapeseed oil in a saucepan
👉 Fry the chopped shallot for about 8 minutes and add the garlic.
👉 Add the cherry tomatoes and let it simmer for 10 minutes.
👉 In the meantime, cut 1 slice of Melt Me Chili in strips of about 1 cm and stack them in two bunches.
👉 Make a cut in the side of the Kiptevree Filet, stop when you're a little over halfway through.
👉 Fill the cut with one of stacks of Melt Me Chili and carefully press the filet closed again.
👉 Cut up the rest of the Melt Me Chili in fine pieces and mix with the breadcrumbs.
👉 Heat up two tablespoons of rapeseed oil in a frying pan.
👉 At this point, add the Italian herbs, chili flakes, salt and pepper to your simmering tomato sauce.
👉 Take out three plates. Fill one with flour, one with the plantbased egg and the other one with the Melt Me Chili-breadcrumb mixture.
👉 Dip the Kiptevree Filet in the flour, then the egg and lastly in the breadcrumb mixture. Make sure all sides are covered well.
👉 Fry on all sides until golden brown and crunchy.
👉 Lower the heat and add your tomato sauce. Let simmer for another 3 minutes.
Garnish with chopped parsley for extra fanciness.
If this doesn't blow you off your socks, I don't know what will.