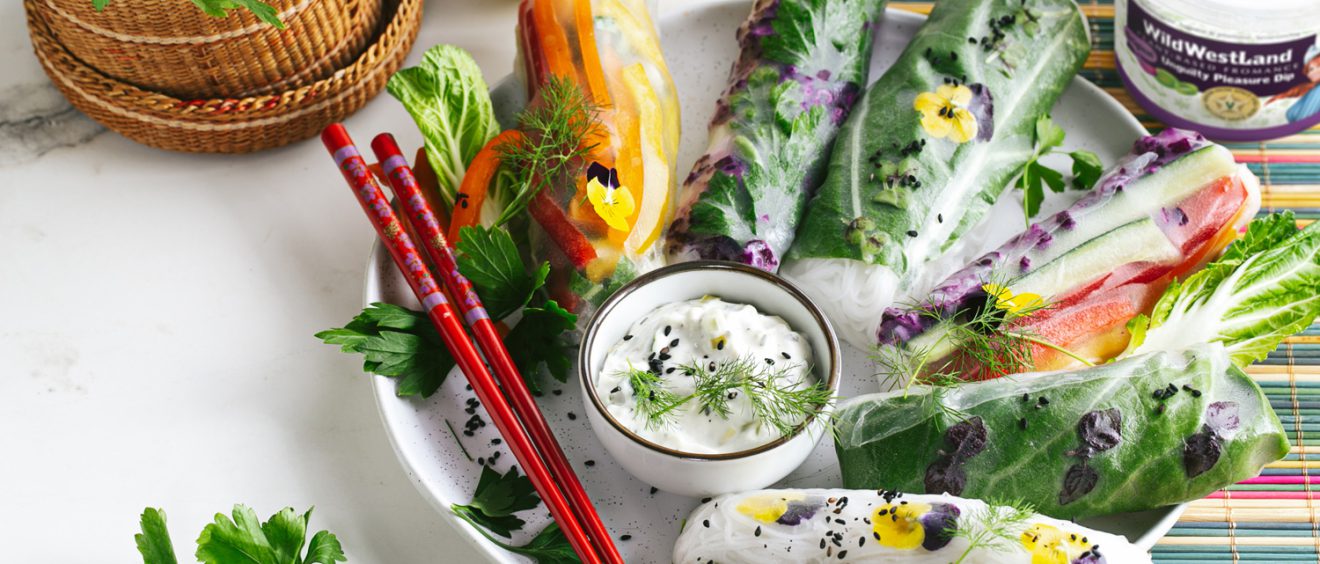 Gorgeous Summer Rolls
Healthy, light and perfect for dipping in our Unguilty Pleasure Dip. What's not to love? Read on for the recipe of these gorgeous summer rolls. 🌞
Ingredients:
8 sheets of rice paper
100 gr glass noodles, cooked
1 tbsp lemon juice
1 tbsp olive oil
2 tbsp sesame oil
Vegetables of your choice, like cucumber, bell pepper, red cabbage, bok choy or bean sprouts
Cilantro
Black sesame
1 tub of WildWestLand Unguilty Pleasure Dip Original
Optional: edible flowers
Preparation:
Mix the noodles with the lemon juice, olive oil and sesame oil.
Fill a frying pan with warm water and dunk a sheet of rice paper in it until softened. Lay it out on a flat plate.
Now you can go to town on filling and decorating with the vegetables and the rice noodles. Make sure that there's 2 cm of empty space at the edges for folding later.
If you're adding edible flowers because you're in a fancy mood, take note that the bottom of the filling will be at the top of the summer rolls once they're finished, so lay those down first.
Fold the bottom of the sheet over the filling, fold in the sides and roll it as neatly as you can.
Continue until you're out of sheets of rice paper and snack on the leftover filling if there is any.
Now all you have to do is dip it in WildWestLand Unguilty Pleasure Dip Original and you've got yourself a wonderful meal.