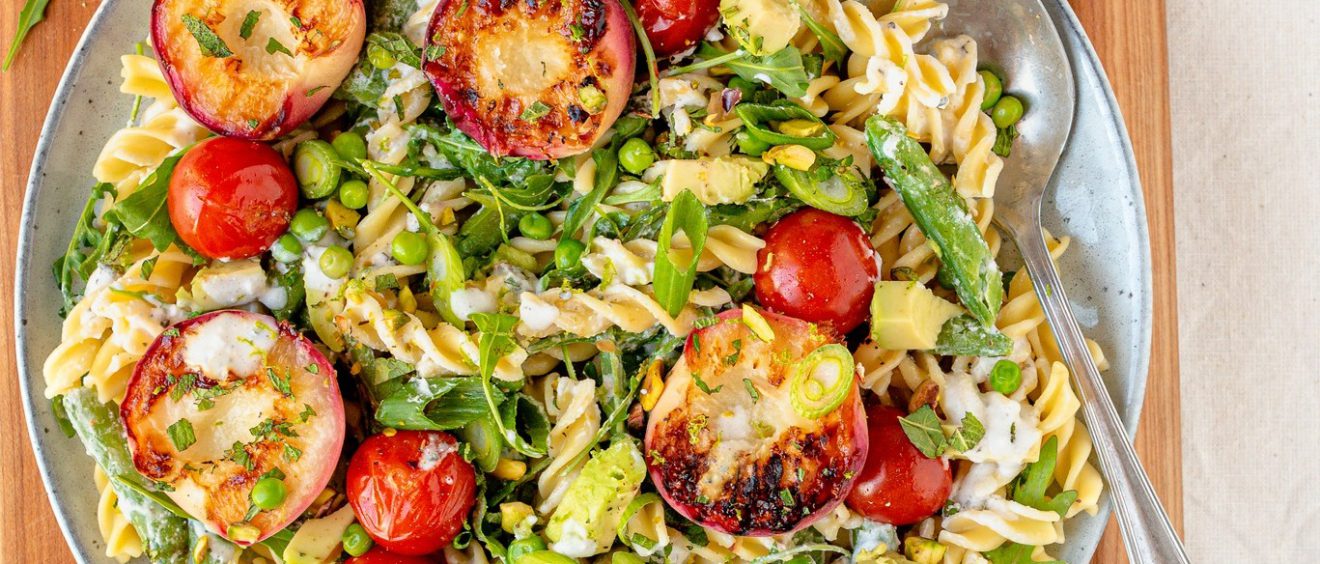 Summer Pasta Salad
Summer for me is all about ice cold things, good company and of course a barbecue. Add WildWestLand to the mix and you've got yourself a perfect summer day. 🌞
Ingredients:
2 peaches, halved
1 tub WildWestLand Garlic & Herb Affair
300 gr fusilli
1 tbsp olive oil
250 gr cherry tomatoes
100 gr sugar snaps
50 gr garden peas
50 gr arugula/rocket
1 spring onion, in rings
1 avocado, diced
30 g mint leaves, chopped
20 g pistachios, chopped
Preparation:
Preheat the barbecue. Cook the pasta as directed on the package, reserving a tub of cooking water for later. Rinse the pasta with cold water and add some olive oil. Place the tomatoes, sugarsnaps and peas in a pan and roast them briefly until the tomatoes are golden brown and the sugarsnaps and peas are nice and crunchy. This is where the barbecue action comes in: grill the peaches in 6 minutes, turn around halfway through. Set the peaches aside and add the Garlic & Herb Affair to a bowl. Add some cooking liquid until it has the consistency of a creamy dressing. Add the fusilli, sugarsnaps and peas and stir well. Add salt and pepper to taste. Finish with the avocado cubes, pistachios, spring onions, tomatoes, lime zest and mint leaves.