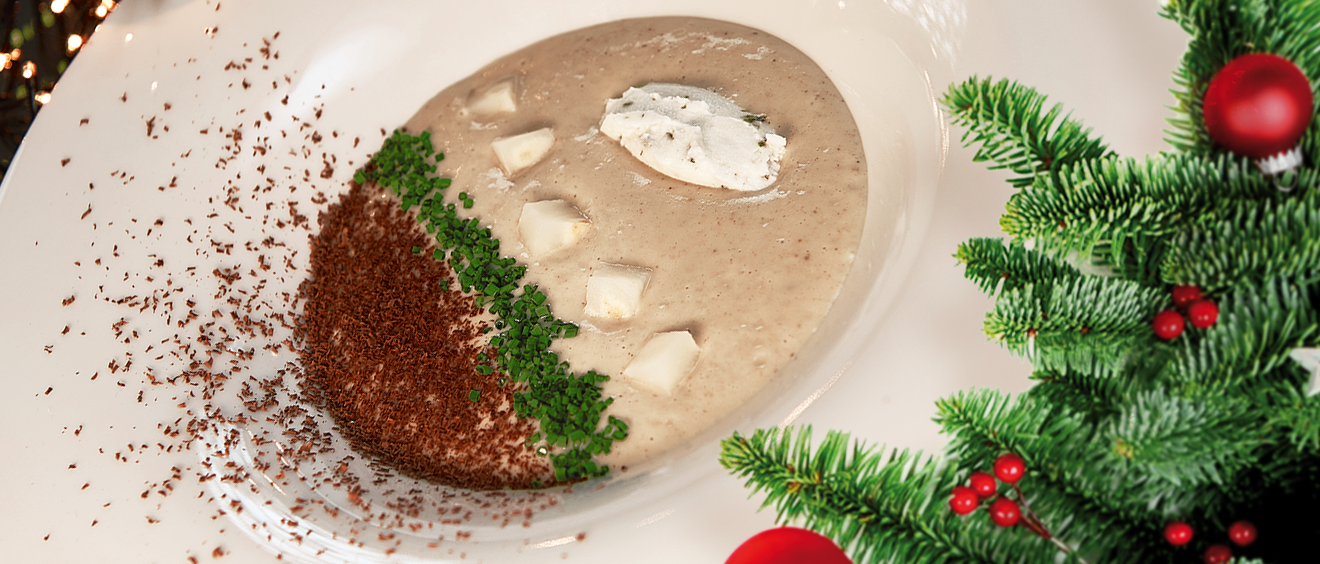 Roasted Celeriac Soup
There's no better way to start off your abundant Christmas dinner than with soup. Light, tasty and healthy to compensate for all the sugary treats you'll be having later. Although chocolate does play a role in this hearty soup. Did that spark your curiosity? Good, follow me!
Ingredients:
1 tup WildWestLand Cream Passionel
1 celeriac
350 gr plant-based milk
1 tbsp ras el hanout
Pepper and salt to taste
1 tsp apple vinegar
For garnishing:
1 cube of dark chocolate
4 tbsp WildWestLand Garlic & Herb Affair
2 tsp chives, finely chopped

Preparation:
Wash the celeriac and wrap it in two layers of aluminium foil. Bake it in the oven at 180 degrees for about an hour. Be careful opening the foil, hot steam may come out. Peel the skin off the celeriac and cut the vegetable into cubes. Save 4 tablespoons of your prettiest, cubiest cubes to use to garnish the soup.
Mix the plant-based milk in a blender with all the other ingredients, except for the Cream Passionel. Once it's a smooth puree, add the Cream Passionel to it in three parts. If the soup is too thick for your liking, add some more of the plant-based milk.
Time to serve this darling dish! Garnish with the dark chocolate, the leftover celeriac cubes and chives. Top it off with a spoonful of Garlic & Herb Affair and you're all set!