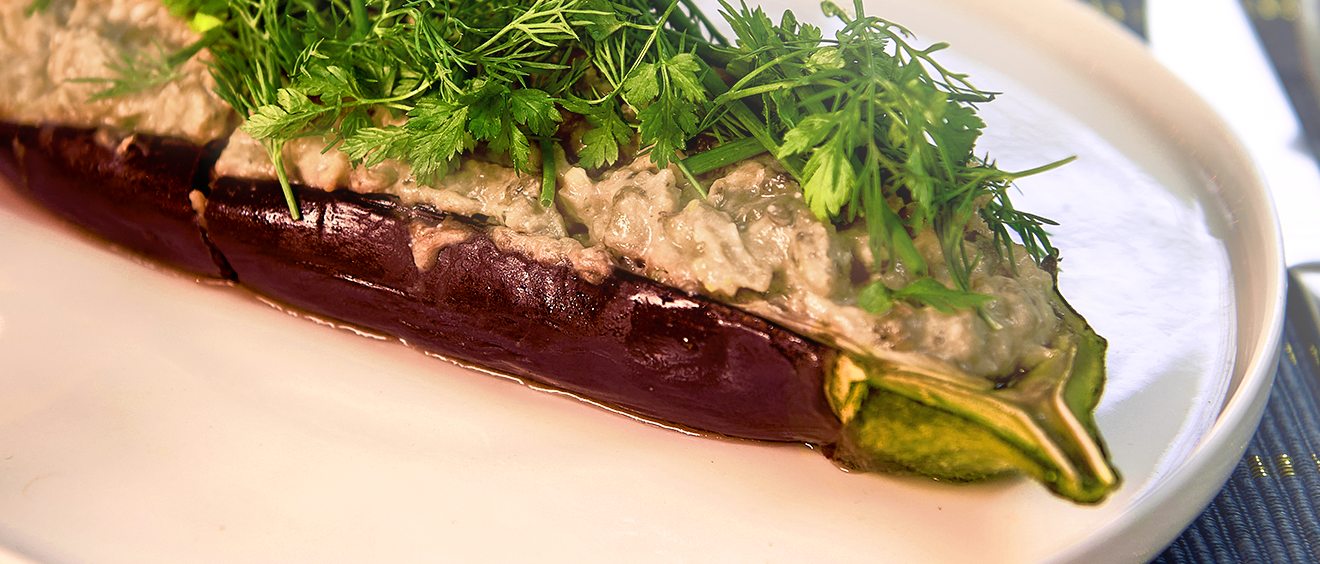 Eggplant Japanese style

What's a dinner without side dishes? You're probably working your butt off in the kitchen already, so this vegan eggplant dish will blow your mind. Let's get at it!
Ingredients:
½ tub of WildWestLand Garlic & Herb Affair
2 eggplants
75 gr miso
100 ml white wine
100 ml water
2 tbsp soy sauce
1 tbsp vinegar
80 gr cooked chestnuts
For garnishing:
1 bunch of chervil
1 bunch of chives
1 bunch of dill
Preparation:
Preheat the oven on 180 degrees Celsius. Cut the eggplants in half lengthwise. Then cut a diamond pattern into the eggplants with the tip of a knife. Make sure you don't cut all the way through, we want the eggplant to be whole. Next, bake the eggplants in the oven for 40 minutes.
While it's baking, mix the white wine, water, soy sauce and vinegar in a saucepan and bring to a boil. When it's boiling, add the miso and sugar. Bring to a boil again and let reduce on heat until the mixture has a syrupy consistency. Chop the chestnuts coarsely, mix with the mixture you just made and add the Garlic & Herb Affair.
When the eggplants are cooked, scoop out the meat with a spoon or fork. Be careful not to damage the skin. Mix the eggplant meat with the chestnut and Garlic & Herb Affair mixture and spoon it back into the eggplant skins. Bake in the oven for another 15 minutes and garnish with the chopped herbs and a little olive oil.
This is a dish that will impress. Especially if you tell your dinner guests you foraged the chestnuts yourself. Don't worry, we won't tell that they're store-bought.