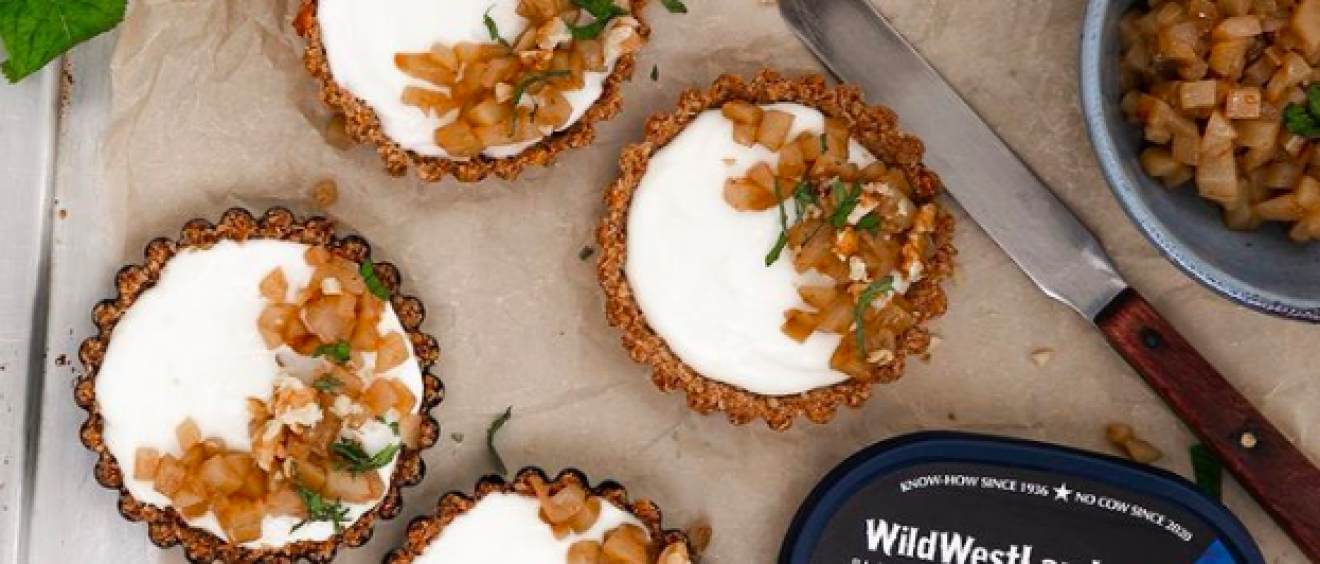 Oatmeal speculoos tarts with pear and walnut
Sounds good right? It gets better: they are nourishing enough for breakfast.
Ingredients for 6 tarts:
12 tbsp coconut oil
6 tbsp water
60 g walnuts, chopped
150 g oatmeal, ground
4 tbsp (palm) sugar
1 ½ tsp speculaas (gingerbread) spices
1 tsp ginger powder
1 large pear or 2 small pears, peeled and diced evenly
1 tub of WildWestLand Cream Passionel
150 ml vegan yogurt (f.i. Alpro mild & creamy)
3 tbsp vanilla sugar
Optional: 2 sprigs of mint, chopped
Preparation of the pie crust:
Preheat the oven to 175°C.
Melt half of the coconut oil until it is liquid. Reserve some walnuts for garnish – combine the rest of the walnuts with the melted coconut oil, water, oatmeal, speculaas spices and (palm) sugar until a crumbly dough is formed.
Brush 6 cake tins with a thin layer of coconut oil and divide the dough mixture among them. Press the dough evenly and firmly against the bottom and edges. Place the tarts in the middle of the oven and bake for about 15 minutes. Let the pie crusts cool, then take 'em out of the moulds. Try to keep from eating them as they are.
Preparation of the filling:
Heat the rest of the coconut oil in a frying pan and fry the pear cubes with the ginger powder and 1 tablespoon of vanilla sugar over medium heat, stirring, until the pear is soft and lightly coloured and your entire kitchen smells amazing. Let the pear cool.
In a bowl, beat the Cream Passionel with the vegan yogurt and the rest of the vanilla sugar.
Fill the tarts with a little cheese/yogurt mixture and divide the pear over them. Garnish with the reserved walnuts and some mint leaves to make 'em look even more dashing.
Tip: Fill the pie crust as shortly as possible before serving. This keeps the bottom nice and crunchy!